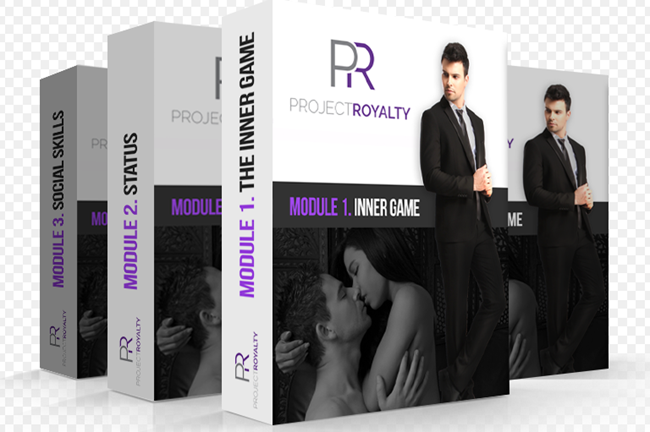 "Project Royalty" by Greg C. Greenway is designed as an accelerated 44-day training program towards becoming a high-status man that attracts money, power, respect, and hot women in your city.
The program aims to upgrade your life by providing you with the skills and techniques to engineer your own perfect lifestyle and high-status social circle.
It is intended to help men:
– Have a social life filled with likeminded incredible people
– Get noticed by women, obsessed over you, and chasing you
– Develop the inner confidence that women crave and men respect
– Gain high-level psychological techniques to charm and influence people
– Discover magnetic seduction skills that attract your most desired women
– Learn advanced social intelligence training and build the lifestyle you want
Table of Contents
Module 1: Inner Game
– Legend Creation program (7 stages)
– Recognizing your true path and how to follow it
– Take control of your life and live by your own rules
– How to have unshakable earth confidence in situations
– A technique so if you mess up an interaction with a woman she will still want you
– Belief Creation (5 stages) to fix negative beliefs and replace them with empowering thoughts
Module 2: Status
– Fashion secrets from celebrity stylists
– Advanced vocal training via mouth and voice strengthening exercises
– Tonality techniques used by Hollywood actors to command others attention
– An eye contact technique that makes defensive women desperate to please you
– 7 Status Accelerator lines to use in conversations and boost your status to rockstar level
– How to transmit powerful, high-status body language that demands attention from women
Module 3: Elite Social Skills
– A conversation starter that makes people like you
– The one situation to avoid in social interactions, or be seen as awkward
– How to quickly master Social Intelligence in order to handle social situations
– Systematically engineering "the cool factor" so people will naturally like and respect you
Module 4: Building Rapport
– How to create the likable effect the more you are seen
– Conversation Matrix so that you never run out of interesting things to say
– A two-step technique that develops super fast deep human relationships
– Why you can be different from someone, and still have lots of things in common
– Six patented Rapport Accelerators that build immediate rapport with people you meet
Module 5: Introductory Rapport
– How to get people to introduce you to their friends, and attractive lady friends
– The Utility Game and putting it into action to exponentially increase your social network
– Advancing to the next level: from social circle introductions to becoming the social circle leader
Module 6: Social Circle Access
– Five steps to smoothly infiltrate any social circle
– Bypassing the gatekeepers of high end social circles
– The easiest way to "get in" with a social circle or network
– How to tap into the vastness of a much larger social network
Module 7: Social Circle Dynamics
– The five types of people in every social circle
– Positioning yourself in the most powerful position
– Using gossip and jokes to climb the social ladder
– Recognizing and excluding two types of people in your social circle
Module 8: How to Build Your Own High Impact Social Circle
– Determining the purpose of your social circle
– Building your own social circle with you as the leader
– Getting others to promote your social circle and attract new member
– How to quickly building a new, high-influence social circle in four steps
Module 9: The Secrets of Sexual Funnels
– An automatic system that delivers hot new women into your bed
– The "Pimpin' All The World" Method to sleep with hot women in different cities
– Using "Entourage Game" to build a group of beautiful ladies who want to have sex with you
Module 10: Attraction
– Using sexy stereotypes to get women wanting you before you opened your mouth
– Learn status conversation topics to paint you as the hero in a woman's fantasies
– How to stand out in the crowd in any situation and be seen as the most attractive man
Module 11: Emotional Rapport
– Conversation topics that generate unbreakable bonds with a woman
– How to create the "Girlfriend Effect" to turn a woman into your loyal girlfriend
– Discover the key to a woman's emotions in order to develop a deep connection
Module 12: Sexual Tension
– Avoiding the mistakes many men make to avoid becoming just a friend
– Learn he difference between sex and the "friend-zone" to create sexual tension
Module 13: Sexual Arousal
– Effortlessly create intense sexual arousal with women you want to sleep
– A technique for having sex with women that have placed you in the friend zone
– A seduction technique to get women that friend zoned you to sexually desire you
– Seven arousals techniques that make a woman horny and begging to have sex with you
Module 14: Sex On-Demand
– A sex sentence that turns a woman into your personal horny nymphomaniac
– Using psychological principles to make women addicted to having sex with you
– IFAMM formula for meeting, dating, and sleeping with hot women in your social circle
– "Master Key" mindset to make women feel comfortable doing naughty things with you
What You Get:
– 17+ hours of HD video
– Daily transformation exercises
– Interviews with other experts
SIZE: 7,9 GB
SalesPage (more info) – product no longer available – released at november 2015
Greg C Greenway – Project Royalty Contents: Videos, Audios, Pdfs
Download
Welcome guest, download links are here.
MEMBERS ONLY
In order to see all download links and hidden content you have to be our member.