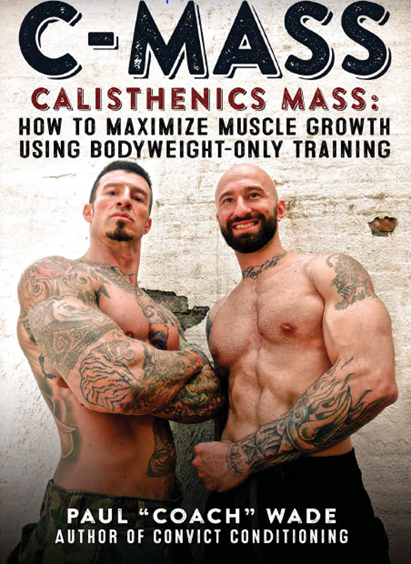 Is it really possible to add significant extra muscle-bulk to your frame using bodyweight exercise only? The answer, according to calisthenics guru and bestselling Convict Conditioning author Paul Wade, is a resounding Yes. Legendary strongmen and savvy modern bodyweight bodybuilders both, have added stacks of righteous beef to their physique–using just the secrets Paul Wade reveals in this bible-like guide to getting as strong AND as big as you could possibly want, using nothing but your own body.
Paul Wade's trenchant, visceral style blazes with hard-won body culture insight, tactics, strategies and tips. C-Mass is the ultimate blueprint for getting huge naturally without free weights, machine supplements or–God forbid–steroids. With C-Mass, Paul Wade further cements his position as the preeminent modern authority on how to build extraordinary power and strength with bodyweight exercise only.
CONTENTS:

1. Bodyweight Muscle? No Problem! 2. The Ten Commandments of Calisthenics Mass 3. "Coach" Wade's Bodypart Tactics 4. Okay. Now Gimme a Program 5. Troubleshooting Muscle-Growth: The FAQ 6. The Democratic Alternative…How To Get As Powerful As Possible Without Gaining A Pound 7. BONUS CHAPTER: Supercharging Your Hormonal Profile
Get the expert's guide to build phenomenal amounts of natural muscle mass and discover how to:
•Add 20-30+ pounds of solid muscle to your frame–with perfect proportions
•Reshape your arms with 2-3 inches of gnarly beef
•Triple the size of your pecs and lats
•Thicken and harden your abdominal wall into a classic six-pack
•Throw a thick, healthy vein onto your biceps
•Generate hard, sculpted quads and hamstrings that would be the envy of an Olympic sprinter
•Build true "diamond" calves
•Stand head and shoulders above the next 99% of natural bodybuilders in looks, strength and power
•Boost your testosterone naturally to bull-like levels
SIZE: 8 MB (Pdf)
Paul Wade – C-Mass Calisthenics Mass Contents: Pdf
Download
Welcome guest, download links are here.
MEMBERS ONLY
In order to see all download links and hidden content you have to be our member.